Grameen Bank Job Circular 2023: Thank you for your interest in employment with the Grameen Bank Job Circular in Bangladesh. We are sure that you will find the better information provided below. Grameen Bank has circulated a new job circular in recent times.This is your chance to share your story and connect with the job field in our country. As you are hoping for a job, you'll represent your skill and qualification. Please note that resumes/cv send only not direct interviews or other communication.
To get Grameen Bank job circular 2023 related information, you can visit my website which is  Everybody wants to build their career, in this case, they can apply to get this job. Grameen Bank offers people exciting career opportunities. Educational qualifications are very important for this job. If you want to apply for this job, you should submit your application within a short time. Grameen Bank job circular 2023 has been converted to an image file so that people can easily read and download this job circular. Grameen Bank job circular has been given below.
| | |
| --- | --- |
| Institute Name | Grameen Bank |
| Bank's Tagline | Bank for the Poor |
| Number of vacancies | Not Mentioned |
| Salary | Negotiable |
| Educational Qualification | See the ircular |
| Experience | See the ircular |
| Age Limit | not specific |
| Location | Anywhere in Bangladesh |
| Application Deadline | 25 April 2023 |
| Job Category | Bank Jobs |
Grameen Bank Job Circular 2023 www.grameen.com
গ্রামীণ ব্যাংক এর নিয়োগ বিজ্ঞপ্তি ২০২৩ দেখুন এখানে
Grameen Bank Recent Job Circular News Update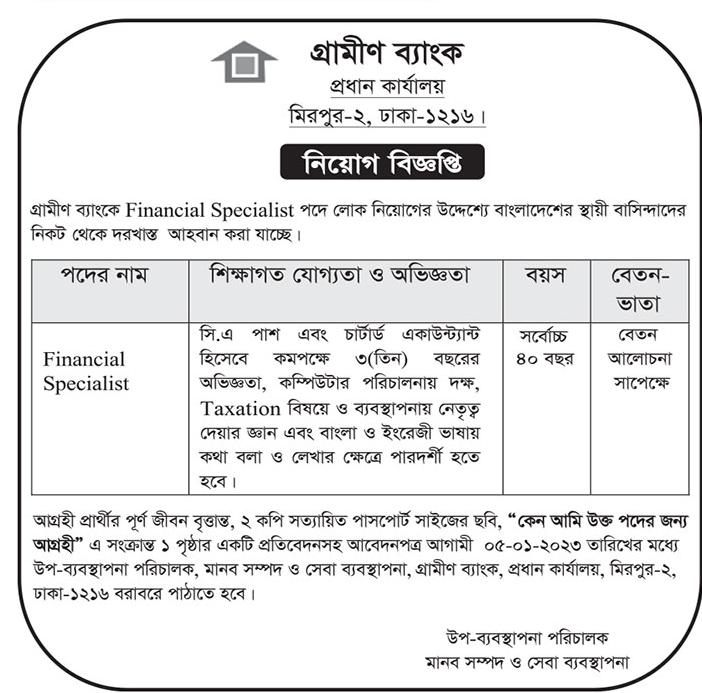 Application Deadline: 05 January 2023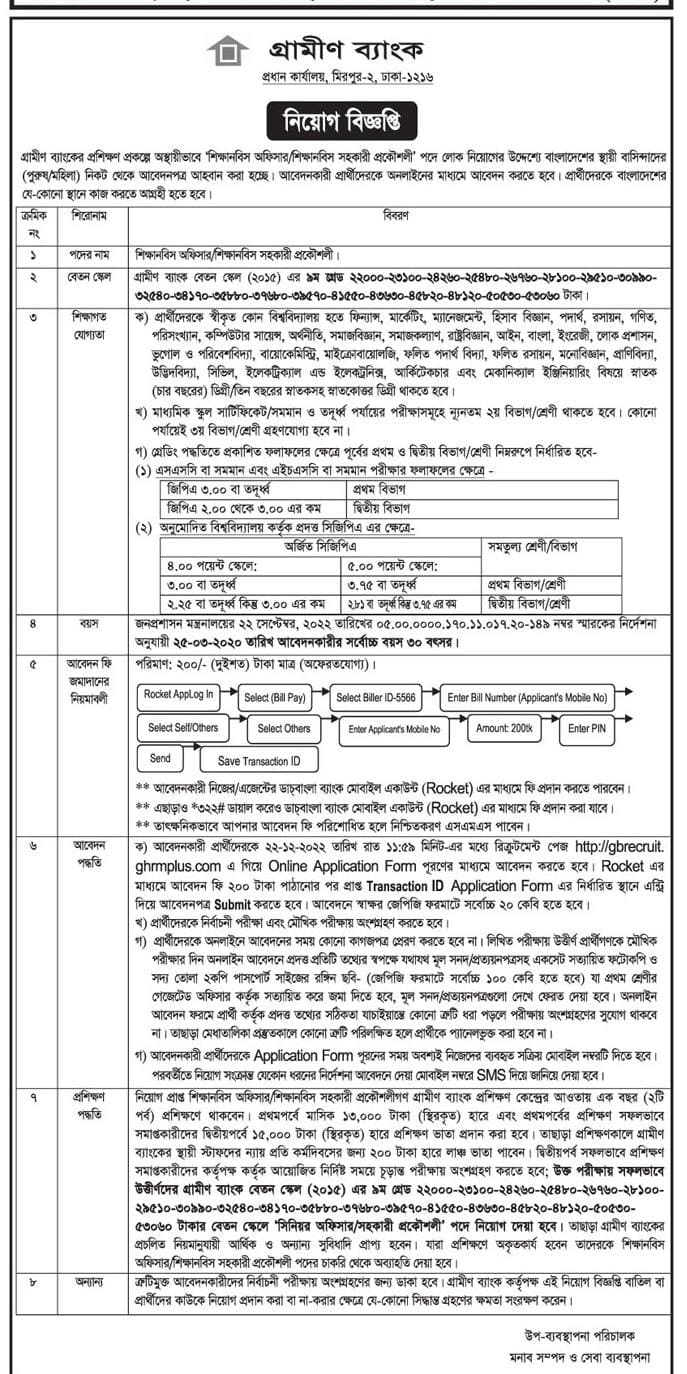 Application Deadline: 22 December 2022
Apply Online: erecruit.ghrmplus.com
Grameen Capital Management Ltd. Job Circular 2023
As of December, 2017, it has 8.93 million borrowers, 97 percent of whom are women. With 2,568 branches, GB provides services in 81,400 villages, covering more than 97 percent of the total villages in Bangladesh.Grameen Bank's positive impact on its poor and formerly poor borrowers has been documented in many independent studies carried out by external agencies including the World Bank, the International Food Research Policy Institute (IFPRI) and the Bangladesh Institute of Development Studies (BIDS).
This post about: www.grameen.com, Grameen Bank Job Circular in Bangladesh, Grameen Bank Job Circular, Grameen Bank Job Circular 2023